GUEST BLOG FROM HELEN JUBB CEREMONIES
Posted on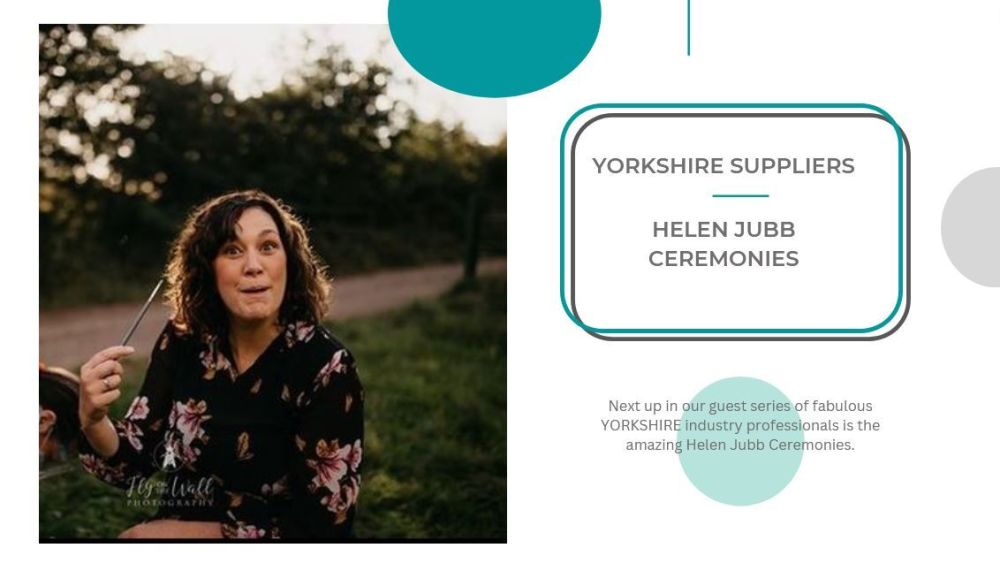 image ©fly on the wall photography
GUEST BLOG FROM HELEN JUBB CEREMONIES
YORKSHIRE WEDDING SUPPLIERS SERIES - PLANNING YOUR CEREMONY

GUEST BLOG FROM HELEN JUBB CEREMONIES
Next up in our guest series of YORKSHIRE wedding suppliers for your special day. I first met this wonderful lady on a styled shoot we managed to squeeze in between restrictions. A true professional with a real sense of fun and passionate about what she does. She is definately someone I would 100% recommend to couples wanting a fun filled, personal and professional ceremony to mark their special day. Here she shares her Top 5 Tips For Planning Your Ceremony.
---
As wedding days go, the ceremony is often the part that gets overlooked. It's deemed the 'serious'bit that must be endured before the drinks start flowing, the speeches make you giggle and
everyone hits the dancefloor. What if I told you the party can start at the ceremony, not after it.

Here are my top five things to focus on.

CHOICE
Be yourselves. Did you know you don't have to have a ceremony either in a church or led by a registrar? There is a third, and most importantly, personal, and truly epic way to make yourcommitment to one another in front of your family and friends – a wedding celebrant! A wedding celebrant is someone who creates a bespoke ceremony just for you two, weaving in stories of how you met, your shared life together so far, as well as more traditional elements such as vows and a ring exchange. Just like other wedding suppliers there is a celebrant out there for everyone. We all have different writing styles, personalities and will connect with different couples.
CHOICE OF VENUE
Reflect who you are. Perhaps you love a particular venue, but you really fancy having the ceremony outside in their gardens. There's an issue though, there is no licensed structure in the gardens. With a celebrant a ceremony can take place anywhere. I have performed ceremonies inside licensed venues, in the unlicensed grounds of country houses, in the gardens of family homes, barns, farms and everywhere in between.
CHOICE OF TIME
Don't compromise. The most popular times for wedding ceremonies to take place is somewhere
between 12.30pm and 2pm. There are only so many registrars available, so if you struggle to book
one, a celebrant is a great alternative, actually it's a BETTER alternative! Or perhaps you are thinking the opposite and you'd like your ceremony to be at sunrise or sunset. As a celebrant I don't have set work times, I can be as flexible as you want in order to make your dream day happen.


INVOLVE YOUR GUESTS
Be inclusive. A celebrant will be telling your story to everyone, making it about all of you. Perhaps you would like to get everyone up to sing your favourite song in the middle of the ceremony. Or
you'd like to include an extra element like creating your own cocktail which is then handed out and a toast is given to mark the end of your ceremony. A celebrant can reflect your personalities, your interests and make it a memorable ceremony for all the right reasons.

CHOOSE A FRIENDLY FACE
Many couples are nervous about being in the limelight, front and centre. Working with a celebrantmeans you will have a familiar, smiling face at the front. You will know what is going to be said, you will know what vows you have chosen, or may have written your own. You choose every other supplier so why wouldn't you want to know who's going to be leading your ceremony.
A good celebrant will be at your venue at least an hour before the ceremony is due to start and will liaise with the wedding venue co-ordinator and photographer. I always say I am like your extra
bridesmaid, on hand with tissues, making sure that your ceremony goes smoothly and is a true celebration.
I specialise in ceremonies that are a mixture of humour and heartfelt. I like my couples and their guests to feel relaxed and have a giggle.
If you would like to know more, please check out my website here