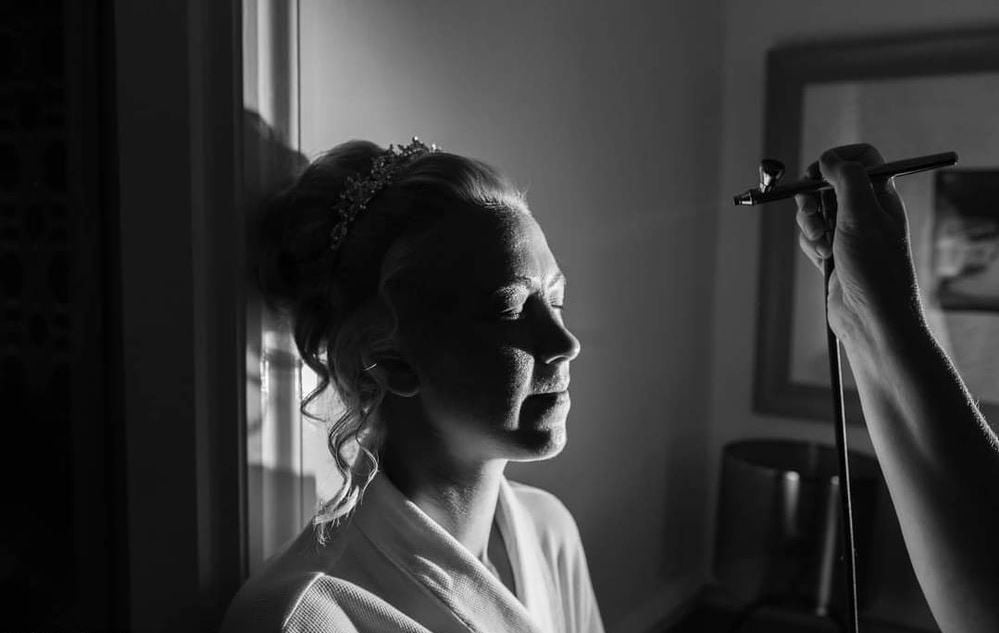 WHAT IS AIRBRUSH MAKEUP? COULD IT BE PERFECT FOR YOU?
If you are not sure what airbrush makeup is and what is involved I will explain here in more detail. Airbrush makeup is an application technique involving an airbrush tool that gently sprays a fine mist of makeup onto the skin. This technique produces a more even and natural-looking finish than traditional brush or sponge application methods.
Why Choose Airbrush Makeup?
It gives a lightweight, water-resistant finish that provides a luxurious, radiant effect. It is also regularly used on many of our favourite celebrities for red carpet events and in film and TV productions owing to the flawless 'airbrushed' effect that is achieved. Airbrush makeup feels luxurious, won't clog pores and allows skin to breathe. It's ideal for special occasions or when you want to have that extra polished finish to your look. Are you curious about trying it? I will explain some of the benefits and possible snags of this type of application so you can decide if it's right for you. Airbrush makeup is ideal for people who:
Don't want to look too 'made up' or feel the makeup is too heavy on the skin.
Want to have the luxurious feel and radiant finish that airbrush makeup gives.
Want a look that will photograph brilliantly in all types of weather - particularly great for typical British weather and lighting conditions.
Airbrush makeup is pretty much bulletproof and will last all day.
On your special day, you most certainly won't want to have to touch up your makeup because it has faded. It is long lasting and won't smudge. Most airbrush formulations will last up to 12 hours or more, making it ideal for weddings and other special occasions. Airbrush makeup is designed to stay put through the happy tears, hugs, kisses, and dancing, so you can look flawless and radiant in the photos and in person without the need for touch ups.
Airbrush makeup is known for its radiant, luxurious feel and seamless application.
Airbrush makeup is a form of makeup application that uses compressed air to atomise liquid makeup into a fine mist, which is then gently misted onto the skin. Traditional makeup is usually applied with a brush or sponge. This means when compared together, in most cases a traditional application, cannot guarantee the same kind of longevity without a skilled professional application or the use of additional products i.e. primer, setting spray. Traditional application will also feel heavier on the skin.

With airbrush makeup, a little goes a long way to achieve a lighter than air, radiant finish.
The main difference between traditional makeup and airbrush makeup is the staying power and how lightweight the product feels on your skin so you don't feel as if you are wearing any makeup at all. If this sounds like the perfect choice airbrush application might be the way to go. It is not as messy as traditional makeup can be and is less likely to clog pores due to its fine mist application. It also requires much less product to produce a seamless, flawless finish.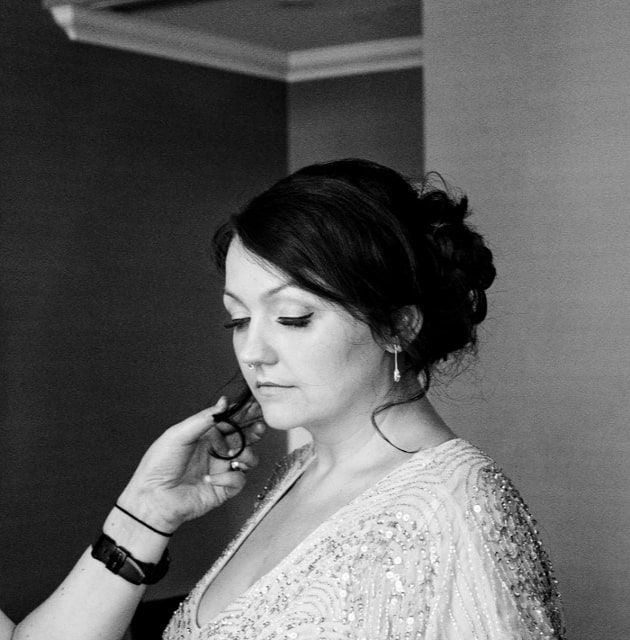 To look its best it's advisable to have a great blank canvas to start from.
Airbrush makeup will always look its best on moisturized, hydrated skin. Although this could be said of any type of makeup application. It is really important to take proper care of your skin and have a simple consistent routine leading up to the wedding day. Want to know more about a super quick skincare routine. See here for my top tips to getting that radiant glow.
The products that are used have to be manufactured specifically for the airbrush. The type of formula used with an airbrush must be different than everyday foundation. It is designed to be atomised and sprayed as a gentle mist. This means the size of the particles in the formula have to be much smaller. Traditional formulations cannot be used in the airbrush as they are not made to be used in this way. This means airbrush products can be more expensive.
It has customisable, buildable coverage.
Airbrush makeup allows for a customized, buildable coverage that can be specifically tailored to your look. It 'floats' on top of the skin and layers can be applied where needed to conceal any problem areas, with the option of light or fuller coverage. Additionally, the finish is smooth and seamless, and areas that have more layers of product blend in smoothly with the overall look.
Airbrush makeup can be more expensive.
It can be more expensive than a traditional makeup application. This is due to the specialized products and advanced techniques needed to apply it correctly.
Airbrush makeup is more hygienic than traditional makeup.
As it uses compressed air to gently mist the makeup over the skin this helps to prevents bacteria from transferring between products. It is hypoallergenic, making it suitable for those with sensitive skin and also as the skin doesn't need to be touched as much.
I would always recommend airbrush makeup over traditional application particularly for a bridal makeup application. Although, ultimately it is up to you and what you feel most comfortable wearing. My ultimate aim is to ensure that you look and feel radiant, confident and most importantly ... you.
If you'd like to learn more about booking airbrush makeup for your special occasion get in touch here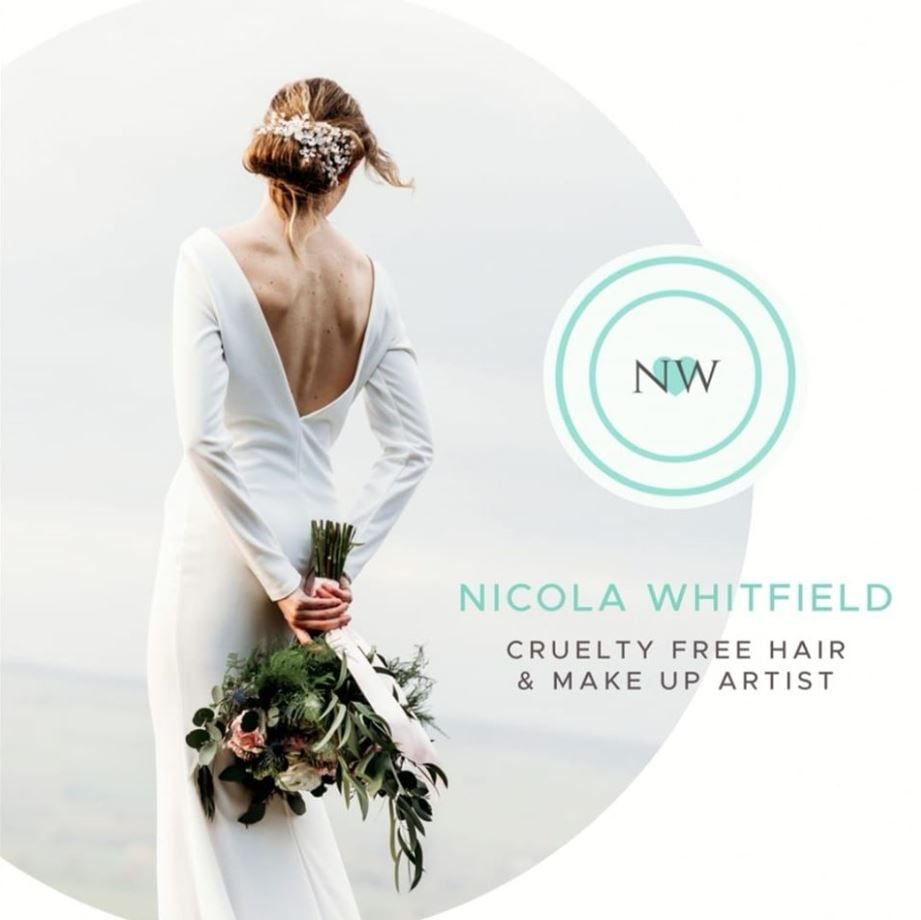 I'm a award winning, cruelty free hair stylist and airbrush makeup artist, based in Barnsley, South Yorkshire. I beautify brides and their bridal parties across Yorkshire with the occasional makeup lesson, corporate event and glitter bar added to the mix.
Want to learn some new skills, planning a wedding or event? Let's chat!